MINIX NEO X7mini Media Hub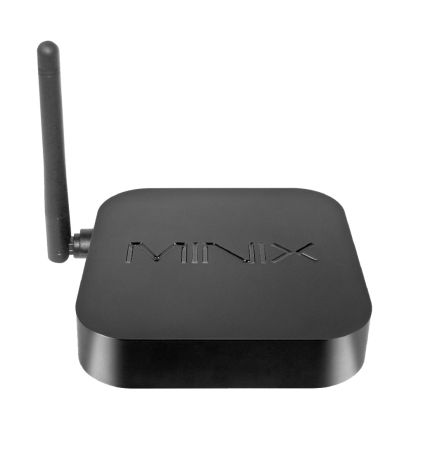 MINIX NEO X7mini Video Review
Quad-Core Media Hub
The NEO X7mini is the latest addition to the MINIX NEO Series, which was launched in September 2013. The NEO X7mini is a trimmed down version about the successful NEO X7, and it has the same Quad-Core ARM Cortex-A9 CPU with Quad-Core Mali-400 GPU. Since the Neo X7mini is in fact the same device as the NEO X7, but in a smaller size, it also is a very strong media hub with great performance, that really exceeds its small size.
Small.Fast.Powerful.

The NEO X7mini is powerful enough to surf the web, Skype, and have other VoIP conversations, streaming media files in Full 1080p HD without any problems, and execute even the graphically advanced Android games, for example Modern Combat 4, Asphalt 8, and more. Like the NEO X7, the NEO X7mini has Bluetooth 4.0 support and is therefore completely compatible with most Bluetooth keyboards, and mice, and Android game consoles, including XBox 360, Playstation 3, and MOGA game consoles. The NEO X7mini is your perfect choice for a great gaming experience!
Android 4.2.2 OS
Like the complete MINIX NEO Series, the NEO X7mini also has Android 4.2.2 OS. This allows you to download a large number of apps via the Google Play Store, including Netflix, Spotify, and almost all popular IPTV apps. The NEO X7mini also has Wi-Fi Display and AirPin PRO, which allows you to play media files such as videos, music, and photos from your smartphone, tablet, or laptop on your tv. A cable between your laptop and tv is no longer required. As of now, you can exchange your media files non-stop and without any wires.
Automatic Power on

The NEO X7mini als features the automatic power-on option. It does not have a power button; the Media Hub starts automatically, as soon as it is connected. MINIX is proud of the limited power usage of the media hubs. You can keep the NEO X7mini plugged in safe and sound, day and night, in the stand-by mode.


Kodi
The NEO X7mini has Kodi MINIX Edition installed, with full hardware decoding support. This exclusive version is developed in cooperation with Kodi and offers the optimum Kodi experience on Android™.
What's in the box
- MINIX NEO X7mini x 1
- MINIX remote x 1
- 5V Power adapter x 1
- OTG cable x 1
- HDMI cable x 1
- Setup guide (English) x 1