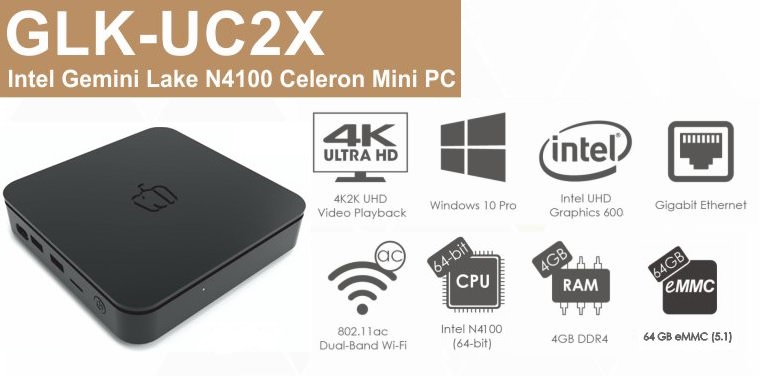 The NEO Z83-4 PRO will be replaced by the PEPPER JOBS GLK-UC2X INTEL N4100 mini pc €299,95
Click here to go to the webshop
In MAY 2019 we get the fanless mini pc also
---
Ultra-compact desktop PC

The NEO Z83-4 Pro mini-PC fanless reinterprets the desktop PC, delivering an unmatched combination of ultra-compact design and premium performance - ideal for work, play and entertainment. Equipped with Intel's Cherry Trail Quad-Core processor, the NEO Z83-4 Pro packs all its power and performance into a size that fits onto your palm.
---

Excellent cooling concept

The innovative, passive cooling concept of the NEO Z83-4 Pro achieves the perfect balance between speed, temperature and performance with absolutely silent operation. Equipped without any moving parts, the NEO Z83-4 Pro smoothly handles even the most demanding tasks without the slightest noise at incredibly low operating temperature. In addition, the NEO Z83-4 Pro is incredibly energy-efficient and requires approximately 80% less energy than conventional desktop PCs.

---

Desktop Performance

Thanks to its 32GB Samsung eMMC (MLC) memory, the NEO Z83-4 Pro provides a lightning-fast and highly dynamic user experience, delivering the high-end performance that the MINIX users have come to appreciate. In addition, the NEO Z83-4 Pro, Bluetooth 4.2, HDMI, Mini DisplayPort, USB 3.0 and with 802.11ac dual-band WLAN and Gigabit Ethernet offers significantly improved connectivity options compared to its predecessor NEO Z64-W.

---

Multipurpose PC

With its two display ports (Mini DP and HDMI), the NEO Z83-4 Pro is a true thin client solution with the combination of its amazingly fast startup, seamless web browsing, multi-tasking, and compatibility with a wide range of productive offices Software. In addition, the NEO Z83-4 Pro gives your living room an exquisite visual movie experience, making it the perfect home theater PC (support up to 4K @ 30fps).

---
Unpack and unload

With 32GB eMMC (5.0) built-in memory, 4GB DDR3L memory and preinstalled Windows 10 Professional (64-bit), the NEO Z83-4 Pro is ready to start immediately after unpacking.
---

VESA Mount

The NEO Z83-4 Pro is supplied with the custom MINIX M-83 VESA mount for easy mounting on the back of the monitor or TV set.

---
For digital signage solutions, the NEO Z83-4 provides the option to enable Auto-Power-On in the BIOS. When using this feature, the "Fast Startup" option should be disabled in the system settings, more in the forum:
http://www.minixforum.com/threads/disabling-fast-startup-in-windows-10.14034/
---
Delivery:
• MINIX NEO Z83-4 Pro with Windows 10 (64-bit) Professional Edition
• VESA bracket M-83 for attachment to the back of monitor or TV
• HDMI cable
• EU power supply 12V (3A)
• Installation instructions (German, English)